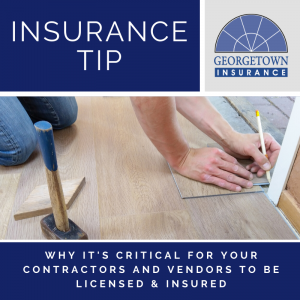 Are you thinking of renovating an old kitchen, installing a hot tub or building an in-law suite? While it might seem enticing and budget-friendly to DIY or hire an (unlicensed) friend to help with these projects, when it comes to home maintenance, the cheapest routes are usually not the safest.
Many people don't understand the risks of using unlicensed professionals. While it might cost more to hire a licensed contractor or vendor, the long-term investment is well worth the price tag. For example, should something happen during a renovation or construction project, you could end up paying more in legal fees than what you planned to spend for your entire project. Here are four reasons hiring a licensed contractor is in your best interest:
1. Licensing and permitting
For projects involving plumbing and electrical work, for example, you'll likely need to pull permits. Licensed contractors will tell you what's needed before the start of your project, saving you the potential for hefty fines down the road. Good news for Maryland residents, The Maryland Home Improvement Commission (MHIC) requires that home improvement contractors licensed to operate in the state furnish a surety bond to the Commission to ensure compliance with licensing guidelines and state laws. To verify a business' license, visit these sites:
2.  Experience and knowledge
Hiring a licensed contractor guarantees a certain level of experience and competency in a specific field. They've been authorized by the state to perform construction work and have been trained to understand and meet all requirements set by the federal government and other municipalities.
3.  Insurance
This is a big one. Licensed contractors will have liability insurance and possibly workers compensation policies in the event an accident occurs, or someone gets hurt on the job. You should ask your contractor if they use subcontractors or only employees. You should also ask for a current dated Certificate of Insurance (COI) to verify policies are in force. If your contractor is unlicensed and without insurance, an injured employee could potentially go after YOU—the homeowner or business owner —with medical bills and compensation. In Maryland and Virginia you can verify workers compensation coverage by visiting these sites:
4.  Responsibility
Licensed contractors don't take mistakes lightly, especially since it can negatively affect their reputation. As we all know, any number of setbacks can occur in construction and taking responsibility if something goes wrong is critical.
The best advice we can offer is to avoid hiring cheap, unqualified help. If you hire a licensed contractor or vendor who's earned the right credentials for their trade and follow best practices, you'll save yourself potential headaches down the line and get your project done right—the first time.
Have questions about your personal or commercial insurance? Contact us to speak with a licensed insurance professional.