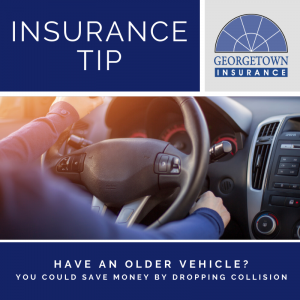 Everyone's always looking to save money on their car insurance. Although having collision coverage isn't required by law, if you have a car loan or are leasing a vehicle, your lending institution will likely require both collision and comprehensive coverage. But what if you have older vehicle(s) that are fully paid off?
Collision insurance coverage is designed to cover the repair or replacement costs of your vehicle in case you're in an accident, whether it involves another driver or a stationary object – such as a tree or fence. It can also be helpful in cases when your car is hit by a driver with insufficient insurance, also known as an uninsured or under-insured driver. According to Insurance.com, you're most likely to drop collision coverage after your vehicle's eighth birthday. Based on data from more than half a million car insurance quotes, this study indicated that more drivers choose to drop coverage during year eight than any other time. In fact, nine out of ten owners of seven-year-old vehicles have collision coverage, but only 75 percent of eight-year owners still do. Besides your vehicle's age, you'll also want to think about its current condition and value when deciding if dropping collision coverage makes sense.
You can think about it this way – if you wouldn't repair your vehicle for a major mechanical issue, you likely don't need collision coverage. For example, if the replacement value of your vehicle is less than 10 times the annual premium you're paying for collision and comprehensive insurance, it's time to scale back on both. And since these costs make up about 30 to 40 percent of your insurance, you can save some significant cash by dropping this coverage if you find it unnecessary.
Lastly, it's important to note that you should never drop liability insurance on your vehicle – regardless of its age, condition or value. This coverage protects your home and other financial assets in case you have an accident with another driver who decides to take legal action against you. If you're unsure whether you should drop collision coverage on your vehicle, contact your insurance agent to discuss your options.
Have questions about your personal or commercial insurance? Contact us to speak with a licensed insurance professional.