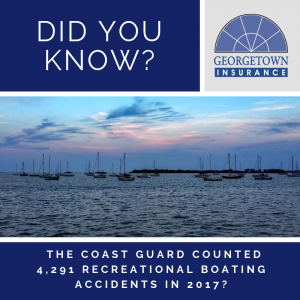 Did you know…
That in 2017, the U.S. Coast Guard counted 4,291 accidents that included 658 deaths, 2,629 injuries and approximately $46 million dollars of damage to property as a result of recreational boating accidents? What's more, the use of alcohol was the leading known contributing factor (where a cause was known) in fatal boating accidents.
Boats and personal watercraft are some of the most sought-after luxuries in life. They're also expensive purchases that come with real dangers. However, if being on the open water is one of your passions, they're worth it. When it comes to insuring your boat or other personal watercraft, it's usually best to separate that coverage from your homeowner's policy. Why? Because most homeowners' policies have size restrictions, limitations on horsepower, and limits on damage coverage. That's why having marine insurance is beneficial.
Marine insurance is a lot like car insurance—it offers protection if you or another operator of your boat causes an accident that results in damage or injury to someone. But you need to make sure you have the right policy for your needs. For example, does your program include roadside assistance, on water towing, total loss replacement, and more? Regardless of the type of watercraft you have—a jet ski, sailboat, fishing boat, house boat, or an entire fleet—it's best to contact your insurance agent to present you with the right options.
Have questions? Contact us to speak with a licensed insurance professional.