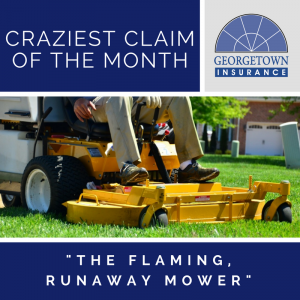 One of our clients, a landscaping company, had a crew out working on a customer's lawn. The landscape crew had a hard time getting one of the riding lawnmowers started and once it finally did, they were afraid to turn it off in the event that it wouldn't restart. When it got low on gas, the driver had one of his co-workers fill up the fuel.
The co-worker got sloppy with the gas, and subsequently, the mower and operator both caught on fire. The driver jumped from the mower to do a "stop, drop, and roll," but the flaming mower kept going down the hill.
The mower eventually stopped when it ran into the back deck of the house they were mowing. It then proceeded to catch the deck on fire.
Our insurance claim ultimately involved 3 policies in a single 5-minute incident:
Burned worker = Workers' Compensation
Burned mower = Inland Marine
Burned deck/house = General Liability