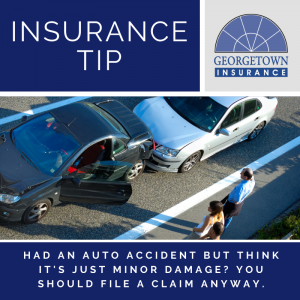 Many people who are involved in minor collisions—often called "fender benders"—avoid reporting these types of accidents to their insurance companies. But why is that? Well, many individuals assume that their insurance rates will increase. They also believe that they can work things out with the other driver without involving the insurance companies. In fact, some would rather just negotiate an out-of-pocket settlement than risk higher premium costs. However, failing to file a claim can have some serious consequences in certain situations.
If you're involved in a collision with another vehicle, no matter how minor it might seem or who you feel is at fault, it's best to contact your insurance company right away.
Of course, no one wants their insurance rates to rise. That's a given. However, imagine the financial implications of being sued by another driver, even if you believe you've struck a mutual settlement? What if the damage to the other vehicle ends up more extensive than originally thought? What if the other driver discovers an injury after the adrenaline from the accident has worn off? If you don't file a report immediately and problems arise later, your insurer may deny your claim altogether, leaving you financial liable.
You should also take the time to review your coverage limits on an annual basis to make sure they are ample. Check out an article we released last year for some helpful information: Personal Auto Insurance: Are Your Limits Enough?
In conclusion, it's a good rule of thumb to report all accidents to your car insurance carrier, no matter how minor they may seem. That way should the other driver's story changes over time, you have some evidence to support your side of the story.
Have questions about your personal or commercial insurance? Contact us to speak with a licensed insurance professional.