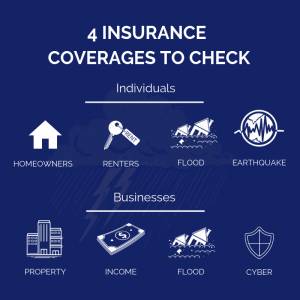 September is recognized as National Preparedness Month. An initiative by Ready.gov, the month aims to encourage and remind Americans to prepare for disasters or emergencies at home, at work and in the community. This year's theme is "Prepared, Not Scared" and its goal is to help homeowners and business owners develop a proactive plan of action to deal with a natural disaster and/or other emergency.
According to the Federal Reserve, some 40 percent of Americans don't even have $400 in savings. In addition, the Federal Emergency Management Agency (FEMA) reports that more than half of all homeowners in the United States do not carry adequate homeowner's insurance to replace their home and its contents should a catastrophic loss occur. Therefore, it's critical to have the right insurance policies in place to ensure you have the financial resources needed to repair, rebuild or replace damaged property in the event of a disaster.
To help you get prepared, here are some key insurance coverages that you need in your insurance toolkit:
Individuals
When disaster strikes, having a homeowner's policy is vital. Standard policies usually cover a wide range of disasters including tornadoes, lightning strikes and winter storm damage. A homeowners insurance policy covers damage to your home along with other structures such as fences and garages along with personal property such as furniture and appliances. It also provides temporary housing, should you and your family need to relocate.
When it comes to disaster protection, renters insurance covers damage to personal property and temporary relocation costs, just like a homeowners policy. However, what it does not cover is the dwelling itself – that falls under the responsibility of your landlord. In addition, a renters policy covers personal liability for accidents, medical costs for anyone hurt on your property or if you accidentally damage someone else's property.
Who exactly needs flood insurance? In short, everyone. Floods can happen anywhere, and most homeowners and renters insurance policies do not include flood damage. In fact, the National Flood Insurance Program (NFIP) estimates that 90 percent of natural disasters involve flooding. For this reason, it's critical to purchase a separate flood policy to protect your home and personal property in the event of a flood caused by a natural disaster.
If you don't live in an earthquake-prone area, you likely don't need this type of coverage. However, just like floods, earthquakes are also excluded from standard homeowners and renters insurance policies. So, if you do live in an area that experiences earthquakes, this is coverage you should have in your toolkit. It helps pay for damage to your home, personal property and other necessary living expenses should an earthquake strike.
Disasters can also have a huge financial impact on businesses. Having the right insurance policies in place means that your business can get back on its feet as quickly as possible and back to "business as usual." Here's are a few policies your business should have:
Businesses
Whether you own the building or are a tenant, commercial property insurance protects you and your business from a variety of risks. It covers damage to your physical business location, as well as its contents, in the event of a storm, fire, explosion, theft or vandalism.
According to FEMA, at least 25 percent of small businesses never reopen their doors following a disaster. It's not just the cleanup and cost of repairs that pose a major challenge for businesses. It's the loss of revenue incurred when the business can't operate normally. Business interruption insurance will compensate you for any revenue you would have earned if your business was operating normally. It also covers rent and utility payments if you need to find a temporary location to operate your business.
FEMA reports the average commercial flood claim was nearly $90,000 between 2011 and 2015. Just like most homeowners policies, commercial property insurance does not include coverage for flood damage. A separate policy needs to be purchased from the NFIP or a private insurance carrier. It's a small price to pay to protect your livelihood. Without it, businesses are usually faced with three options:
Paying recovery costs out of your own pocket
Taking out a loan to cover the costs—adding financial stress to your business
Closing your doors and walking away
Other Threats
While most people understand the need to prepare for an emergency such as a natural disaster, there's much less awareness about the need for cybersecurity preparedness. Cybersecurity preparedness is often a deciding factor on how big of an impact a cyber-related event—such as a ransomware infection, identify theft, or data breach—has on an individual or organization.
Individuals and organizations should develop their own cyber emergency response plan that includes guidance on protections and controls. Taking the following steps can potentially help you thwart off a cyber-attack, before it happens:
Keeping software and operating systems up-to-date
Using strong passwords and two-factor authentication (two methods of verification)
Watching for suspicious activity and not clicking on anything that appears suspect
Using encrypted (secure) internet communications
Creating backup files
Protecting your home and/or business Wi-Fi network
For businesses, there are cyber insurance policies that can help protect you in case of a cyber-attack by providing coverage for data loss or corruption, identity theft, reputation recovery and other costs of a hack. Taking it a step further, there's also something called terrorism insurance that will cover damage to buildings, equipment, inventory and other property in the case of a terrorist attack.
Natural disasters and other emergencies cause hundreds of billions of dollars of damage to homes and businesses every year. We know that insurance is complex and finding the right policies to protect your home and business in the event of a natural disaster or other emergency can be confusing. The experts here at Georgetown Insurance Service can help you navigate this process and develop a customized plan of action.
Have questions about your personal or commercial insurance? Contact us to speak with a licensed insurance professional.