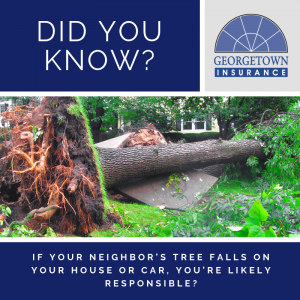 Did You Know…
If your neighbor's tree falls on your house or car, you're likely responsible?
While summer means relaxing by the pool and enjoying the warm weather, it can also mean damaging storms and high winds. All it takes is one strong storm to topple a tree and cause significant damage to your home or vehicle. But what if a tree falls on your property that belongs to your neighbor? Who's then responsible for paying the damages?
If a storm causes your neighbor's tree to fall on your property, your homeowners insurance will likely cover the cost of fixing your home and removing large debris – after your deductible has been paid. It is typical for the insurance policy of the property that was damaged to pay for the loss. So, if your neighbor's tree falls on your house during a storm, your homeowners policy will apply. While this may seem strange, remember the insurance policy is on the house – not the tree.
Sometimes a tree misses your house entirely and falls on your vehicle instead. Then what? This depends on how the damage occurred and the terms of your auto insurance coverage. In some instances, your homeowners policy might cover this type of damage. Or you might be able to cover this loss through your auto policy if you have optional comprehensive coverage. If a tree does fall on your car – your auto insurer will help you pay for a replacement vehicle even in the event of a total loss.
Lastly, what if a tree falls on your property due to your neighbor's negligence or neglect of the tree? Unfortunately, this is very difficult to prove and usually doesn't hold up. However, if you're worried about the health of a tree on your neighbor's property, it's important to express that concern before something bad happens. While you can't force your neighbor to act, you may want to consider expressing your concern in writing or even sending a certified letter to ensure there's documentation. In certain instances, your insurance company may try to recover the loss directly from their insurance company.
If a tree falls on your house or vehicle, it's important to report the incident to your insurance company immediately. You should also review your limits and learn more about what your insurance policies cover by speaking with your insurance agent.
Have questions? Contact us to speak with a licensed insurance professional.